Our 2013 Event Sponsors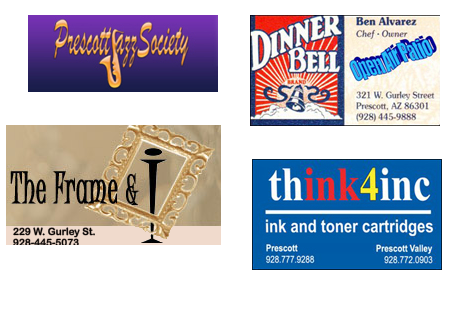 Prescott - Cannon



Milton De Love Cannon Jr. is President of the Prescott Jazz Society, Inc. (incorporated in 1994) and has been an active member of the American music community since 1949.

Milt is one of our most significant historians regarding the culture of jazz music. He has studied music and the History of Jazz at the University of Colorado (1976 - 1980). He has also performed, promoted, studied and taught music through the development and incorporation of non-profit music programs for over a sixty-year period.

Reaching the age of 73 on December 17, 2010, Milt is currently performing with his "Cannonfire Ensembles" weekly, promoting regular and often collaborative jazz events for the Prescott Jazz Society while actively researching and collecting data regarding the history of jazz in Northern Arizona (Prescott region). In February of 2011, Milt will introduce a new program for teaching jazz history.

As Director of the Cannon Academy of Performing Art (founded in 1993), Milt has developed a self-help music program for self-taught musicians. The "Open Ear" program is complete with audio-visual library, musical literature, keyboards, and certified coaches who will be available on call. (See the Cannon Academy of Performing Art page).

Milt believes that we are at our best . . demonstrating the highest honor and utmost respect "when we are consistently striving to do the right thing for the right reason".

To Be Aware is to be Alive!